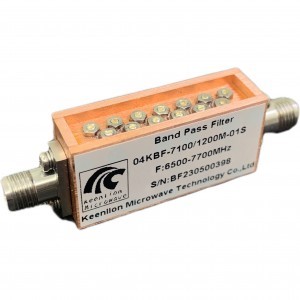 In the ever-evolving world of communication systems, maintaining a seamless and uninterrupted network connection is paramount. One company that understands this need and strives to provide innovative solutions is Keenlion. Leveraging their expertise in telecommunications, Keenlion has recently introduced a cutting-edge Ka Band Bandpass Filter, designed to enhance the performance of communication systems.
Communication systems, especially those operating in the higher frequency ranges, face numerous challenges such as signal interference and degradation. The Ka Band Bandpass Filter developed by Keenlion addresses these concerns effectively, enabling communication systems to function optimally even in demanding environments.
One of the key features of the Ka Band Bandpass Filter is its ability to restrict the transmission within a specific frequency range while attenuating unwanted frequencies. This ensures that only the desired signals within the Ka frequency band are allowed through, filtering out any potential interferences. By providing a focused and controlled frequency range, this filter significantly improves the system's overall performance and reliability, allowing for uninterrupted communication.
The Ka Band Bandpass Filter developed by Keenlion also incorporates advanced technological features that contribute to its superior performance. The precise construction and stringent quality control measures ensure that the filter meets the highest industry standards. The use of high-quality materials and components guarantees durability and long-term reliability. Additionally, the compact and lightweight design of the filter allows for easy integration into various communication systems, making it a versatile solution for different applications.
The versatility of the Ka Band Bandpass Filter extends beyond its physical design. It can be effortlessly incorporated into a wide range of communication systems, including satellite communication, radar systems, and wireless communication networks. Regardless of the application, the filter's consistent high performance ensures uninterrupted communication, making it an invaluable asset for businesses and individuals alike.
One notable advantage of the Ka Band Bandpass Filter is its adaptability to environmental conditions. Communication systems operating in harsh environments, such as extreme temperatures or high humidity, can experience signal degradation due to interference. However, with the high-quality build and rigorous testing processes, this filter maintains optimal performance under adverse conditions. This resilience ensures that critical communication channels remain stable and reliable, even in the most challenging situations.
The introduction of the Ka Band Bandpass Filter by Keenlion signifies their commitment to providing state-of-the-art solutions for communication systems. With their unwavering focus on innovation and technological advancement, Keenlion continues to push the boundaries of what is possible in the field of telecommunications.
As the demand for high-speed connectivity increases, especially in areas such as satellite communications and wireless networks, filters like the Ka Band Bandpass Filter become indispensable. By selectively allowing desired frequencies to pass through while suppressing unwanted signals, this filter guarantees seamless communication, leading to enhanced user experiences and improved operational efficiency.
In conclusion, Keenlion's Ka Band Bandpass Filter represents a leap forward in communication system technology. Boasting exceptional performance, durability, and adaptability, this filter is poised to revolutionize the way we communicate. With their commitment to providing innovative solutions, Keenlion continues to shape the future of communication systems and solidify their position as a leader in the telecommunications industry.
Si Chuan Keenlion Microwave a large selection in narrowband and broadband configurations, covering frequencies from 0.5 to 50 GHz. They are designed to handle from 10 to 30 watts input power in a 50-ohm transmission system. Microstrip or stripline designs are utilized, and optimized for best performance.
We can also customize the Bandpass Filter according to your requirements. You can enter the customization page to provide the specifications you need.
https://www.keenlion.com/customization/
Sichuan Keenlion Microwave Technology Co., Ltd.
E-mail:
sales@keenlion.com
---
Post time: Sep-02-2023