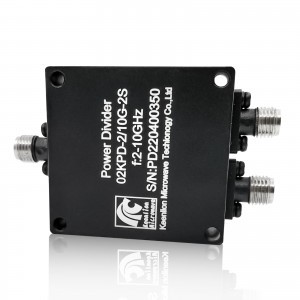 In today's ever-evolving and interconnected world, communication is of paramount importance. Whether it's for business or personal use, we all rely on technology to connect us with the people and information we need. However, sometimes even the most advanced technology can suffer from weak signals or poor connectivity. This is where the Hf Signal Splitter comes into play.
The Hf Signal Splitter is a cutting-edge device that helps boost signal strength and signal quality, thereby increasing connectivity and improving communication. This innovative device, which is designed and manufactured by a company that specializes in telecommunications equipment, has garnered a lot of attention in recent times due to its exceptional performance and reliability.
In today's world of fast-paced communication, the Hf Signal Splitter is an essential tool for businesses and individuals alike. It is especially useful for people who live in remote areas or those who work in industries that require a high level of connectivity. For example, those who work in the maritime industry, the oil and gas sector, or the military often operate in areas where connectivity is weak. The Hf Signal Splitter can help them stay connected no matter where they are.
One of the unique features of the Hf Signal Splitter is its ability to split a single signal into multiple signals. This means that a single signal can be transmitted to multiple devices. This feature is particularly useful for businesses that need to transmit data to multiple locations or devices simultaneously. For example, a company with multiple offices can use the Hf Signal Splitter to send data to all their offices at the same time, without compromising on signal strength or quality.
Another benefit of using the Hf Signal Splitter is that it is easy to install and use. It does not require any complicated wiring or technical know-how. Once it is installed, it can be used immediately, providing users with a seamless and reliable signal booster. Moreover, the device is also designed to work with a wide range of communication equipment, including radios, satellite phones, and walkie-talkies.
The Hf Signal Splitter is also built to last. It is made from high-quality materials that are designed to withstand harsh weather conditions and extreme temperatures. This makes it suitable for use in a wide range of environments, including offshore oil rigs, military bases, and remote mining sites.
In conclusion, the Hf Signal Splitter is an innovative device that is revolutionizing the way we communicate. Its ability to boost signal strength and improve connectivity makes it an essential tool for businesses and individuals alike. With its easy installation process, durability, and compatibility with a wide range of communication devices, the Hf Signal Splitter is the ultimate solution to weak signals and poor connectivity. Whether you're in a remote location, at sea, or in a highly demanding industry, the Hf Signal Splitter is an excellent investment that will pay dividends in terms of improved productivity and seamless communication.
Si Chuan Keenlion Microwave a large selection in narrowband and broadband configurations, covering frequencies from 0.5 to 50 GHz. They are designed to handle from 10 to 30 watts input power in a 50-ohm transmission system. Microstrip or stripline designs are utilized, and optimized for best performance.
We can also customize Hf Signal Splitter according to your requirements. You can enter the customization page to provide the specifications you need.
https://www.keenlion.com/customization/
Sichuan Keenlion Microwave Technology Co., Ltd.
E-mail:
sales@keenlion.com
---
Post time: Sep-05-2023