Broadband VHF Duplexer 145-155MHz/170MHZ-175MHZ 2 Way Cavity Duplexer for Radio Repeater
Product Detail
Product Tags
1. Model Number:04KDX-150/172.5-Q6N
2.The VHF Repeater Duplexer with 2 cavity design,the design is simple and compact, easy to carry and easy to install.
3.The VHF Repeater Duplexer with 2 stopband filters are used,Isolation of transmit and receive signals to ensure both reception and transmission work simultaneously.
4.The duplex outlet duplexer radio make you Effectively improve the signal and enhance the use of wireless communication equipment in large places such as residential areas,  shopping malls and hotels.
5.The 145-155MHz/170MHZ-175MHZ duplexer beneficial to improve the output power of the whole machine, improve the efficiency.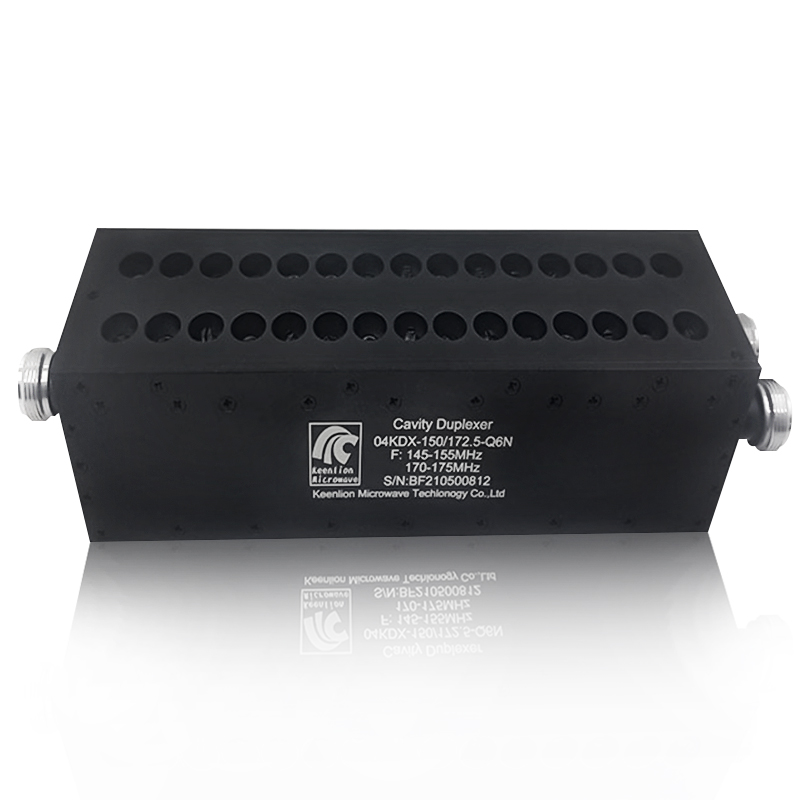 The 145-155MHz/170MHZ-175MHZ Cavity duplexer is a universal microwave/millimeter wave component,Its function is to isolate the transmitting and receiving signals to ensure that both receiving and transmitting can work normally at the same time. It is composed of two sets of filters with different frequencies to prevent the signal transmitted by the machine from transmitting to the receiver. The general Duplexer is composed of spiral vibration cavity. Due to its high working frequency and great influence of distribution parameters, it is often made into a sealed sleeve, each signal feeder uses coaxial cable cavity with good shielding effect and requires a certain degree of smoothness. In order to facilitate heat dissipation, the appearance is usually black. Duplexer is used for mobile communication and working as an unattended transfer station in the field.
It has a good function of frequency selection and filtering in circuits and electronic high-frequency systems, and can suppress useless signals and noise outside the frequency band
It is used in aviation, aerospace, radar, communication, electronic countermeasure, radio and television and various electronic test equipment
When using, pay attention to the good grounding of the shell, otherwise it will affect the out of band suppression and flatness index
Frequency Range

145-155MHz

170-175Mhz

Insertion Loss

≤1.8dB

Return loss

≥15dB

Rejection

≥75dB@170-175 MHz

≥75dB@145-155 MHz

Impedance

50 OHMS

Port Connectors

N-Female

Surface Finish

Black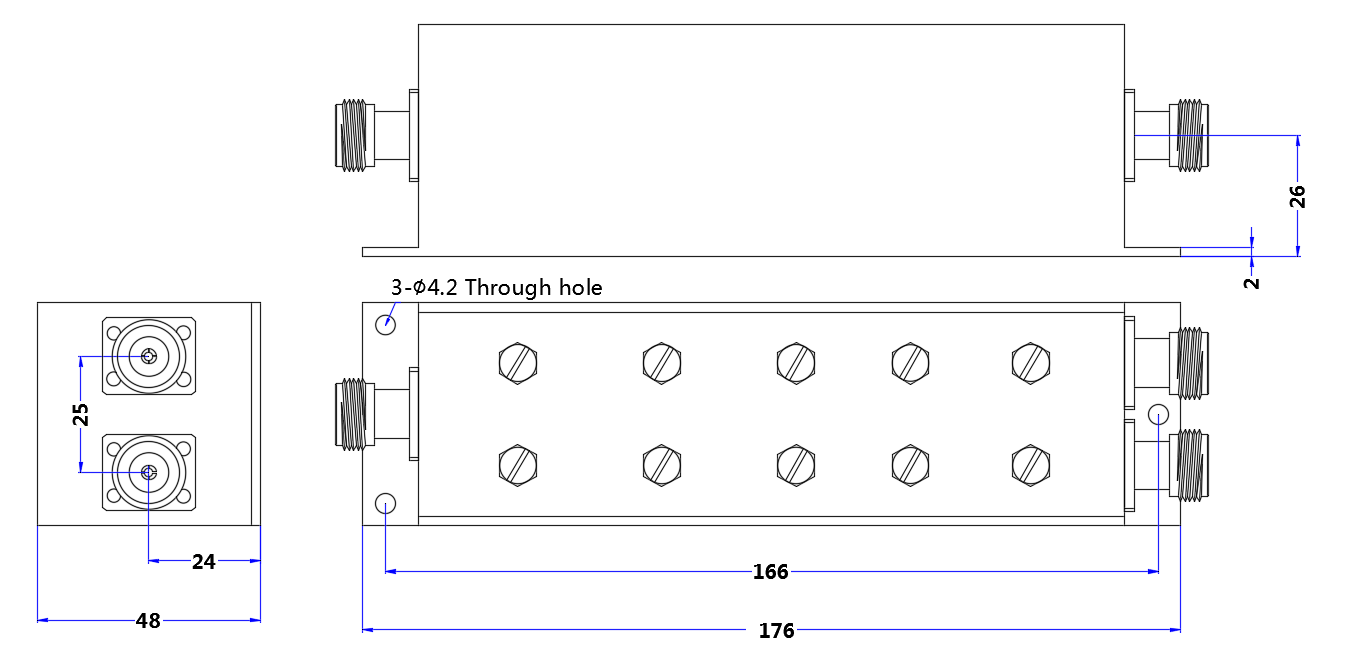 Selling Units:Single item
Single package size: 19X15.4X7 cm
Single gross weight:1.5.000 kg
Package Type:Export Carton Package
Lead Time:
| | | | |
| --- | --- | --- | --- |
| Quantity(Pieces) | 1 - 1 | 2 - 500 | >500 |
| Est. Time(days) | 15 | 40 | To be negotiated |
1.Company Name:Sichuan Keenlion Microwave Technology
2. Date of establishment:Sichuan Keenlion Microwave Technology Founded in 2004.Located in Chengdu, Sichuan Province, China.
3. Product classification:We provide high-performance mirrowave components and related services for microwave applications at home and abroad. The products are cost-effective, including various power distributors, directional couplers, filters, combiners, duplexers, customized passive components, isolators and circulators. Our products are specially designed for various extreme environments and temperatures. Specifications can be formulated according to customer requirements and are applicable to all standard and popular frequency bands with various bandwidths from DC to 50GHz.
4.Product assembly process:The assembly process shall be in strict accordance with the assembly requirements to meet the requirements of light before heavy, small before large, riveting before installation, installation before welding, inner before outer, lower before upper, flat before high, and vulnerable parts before installation. The previous process shall not affect the subsequent process, and the subsequent process shall not change the installation requirements of the previous process.
5.Quality control: our company strictly controls all indicators in accordance with the indicators provided by customers. After commissioning, it is tested by professional inspectors. After all indicators are tested to be qualified, they are packaged and sent to customers.
Q:How often are your products updated?
A:Our company has a professional design and R & D team. Based on the principle of pushing through the old and bringing forth the new and striving for development, we will constantly optimize the design, not for the best, but for the better.
Q:How large is your company?
A:At present, the total number of people in our company is more than 50. Including machine design team, machining workshop, assembly team, commissioning team, testing team, packaging and delivery personnel, etc.
---
Previous:
DC-6000MHz 2 Way/3Way/4 Way RF wilkinson Core & Wire Power Splitter Power Divider,SMA Connect Power Divider Splitter
---
Write your message here and send it to us