High Quality 800~2700MHz 4 way Power Splitter or Power Divider or Power Combiner
Product Detail
Product Tags
The 800-2700MHz Power Divider is a universal microwave/millimeter wave component, which is a kind of device that divides one input signal energy into four outputs equal energy; It can evenly distribute one signal into four outputs. Aluminum alloy shell, It can be customized
The function of the power distributor is to equally divide one input satellite if signal into several outputs, usually including two power division, four power division, six power division and so on.
This chapter mainly introduces the 1-30MHz-16s power divider
The background and significance of the research since human beings entered the 20th century, with the rapid development of modern electronic and communication technology, information exchange
The flow is more and more frequent, and a variety of electronic and steam equipment have greatly affected enterprises and families in various fields. No matter which frequency band works, electronic equipment needs components with various functions, including passive components such as capacitors, inductors, resistors and power dividers, so as to realize signal matching, distribution and filtering; And active devices work together. Microwave system has all kinds of passive and active devices without exception. Their function is to process or transform microwave signals. In modern passive devices, microstrip power divider is becoming more and more important in terms of quality and weight. 
Power dividers in different frequency bands are divided into different series
1. Two and three power dividers in 400mhz-500mhz frequency band are applied to general radio communication, railway communication and 450MHz wireless local loop system.
2. Two, three and four microstrip series power dividers in 800mhz-2500mhz frequency band are applied to GSM / CDMA / PHS / WLAN Indoor Coverage Project.
3. 1700mhz-2500mhz frequency band two, three and four cavity series power divider is applied to PHS / WLAN Indoor Coverage Project.
4. Microstrip two and three power dividers used in small equipment in 800mhz-1200mhz / 1600mhz-2000mhz frequency band.
Feature

Advantages

Ultra-wideband, 0.8 to 2.7 GHz

Extremely wide frequency range supports many broadband applications in a single model.

Low insertion loss, 1.5 dB typ. at 1 GHz

The combination of 20W power handling and low insertion loss makes this model a suitable candidate for distributing signals while maintaining excellent transmission of signal power.

High isolation, 20 dB typ. at 2 GHz

Minimizes interference between ports.

High power handling:

 • 16W as a splitter at 25°C

• 1.5W as a combiner

The KPD-0.8/2.7-4F is suitable for systems with a wide range of power requirements.

Low amplitude unbalance, 0.04 dB at 1.5 GHz

Produces nearly equal output signals, ideal for parallel path and multichannel systems.

 
| | |
| --- | --- |
| Product Name | Power Divider |
| Frequency Range | 0.8-2.7GHz |
| Insertion Loss | ≤ 1.5dB(Does not include theoretical loss 6dB) |
| Return Loss | ≥10dB |
| Isolation | ≥20dB |
| Amplitude Balance | ≤±0.4 dB |
| Phase Balance | ≤±4° |
| Impedance | 50 OHMS |
| Power Handling | 20 Watt |
| Port Connectors | N-Female(In)/F-Femael(Out) |
| Operating Temperature | ﹣40℃ to +80℃ |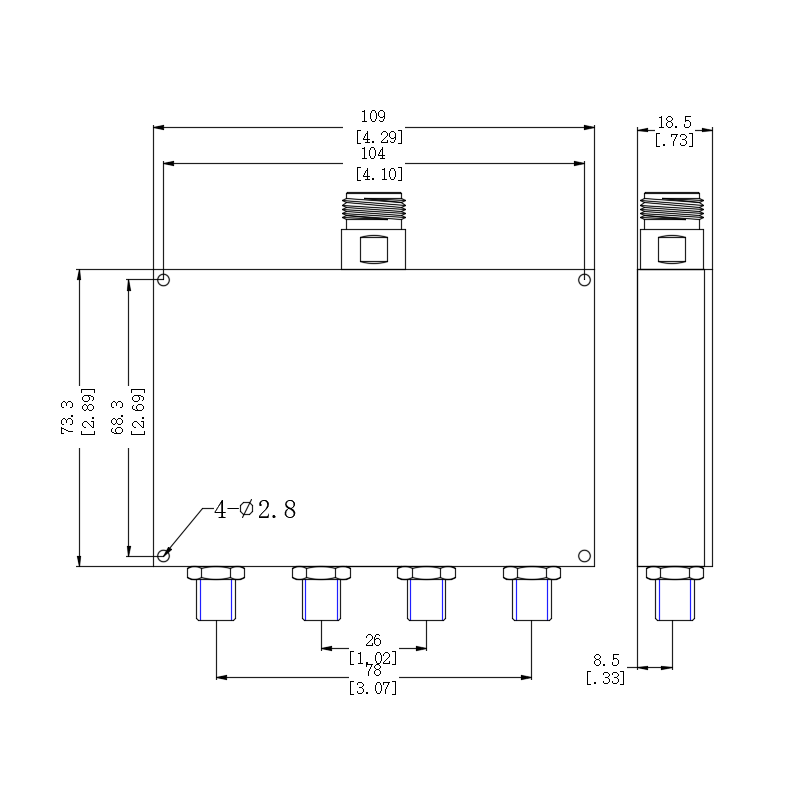 Selling Units:Single item
Single package size: 9X12X15 cm
Single gross weight:1.5.000 kg
Package Type:Export Carton Package
Lead Time:
| | | | |
| --- | --- | --- | --- |
| Quantity(Pieces) | 1 - 1 | 2 - 500 | >500 |
| Est. Time(days) | 15 | 40 | To be negotiated |
1.Company Name:Sichuan Keenlion Microwave Technology
2. Date of establishment:Sichuan Keenlion Microwave Technology Founded in 2004.Located in Chengdu, Sichuan Province, China.
3. Product classification:We provide high-performance mirrowave components and related services for microwave applications at home and abroad. The products are cost-effective, including various power distributors, directional couplers, filters, combiners, duplexers, customized passive components, isolators and circulators. Our products are specially designed for various extreme environments and temperatures. Specifications can be formulated according to customer requirements and are applicable to all standard and popular frequency bands with various bandwidths from DC to 50GHz.
4. Company certification:ROHS compliant and ISO9001:2015  ISO4001:2015 Certificate.
5. Process flow:Our company has complete production line (Design - cavity production - assembly - commissioning - testing - delivery), which can complete the products and deliver them to customers at the first time.

6.Freight mode:Our company has cooperation with major domestic express companies and can provide corresponding Express Services according to customer requirements.
Q:RF 16 channel 1mhz-30mhz core power distributor with SMA connector can be modified?
A:Yes, our company can provide customized services according to customer requirements, such as size, appearance color, coating method, joint model, etc.
Q:Can the epidemic situation be serious enough to deliver goods abroad? Will the epidemic situation affect the delivery progress abroad?
A:It can be shipped abroad, but the receiving time may be extended in areas with serious epidemic.
---
Previous:
10-1800MHz 2/4/8 Way RF wilkinson Core & Wire Power Splitter Power Divider,SMA Connect Power Divider Splitter
---
Write your message here and send it to us