Keenlion Introduces the 3 Way Passive Combiner: Efficient Signal Integration for Communication and Antenna System
Product Detail
Product Tags
 

836.5

881.5

2350

Pass Band

824-849

869-894

2300-2400

Insertion Loss

≤2.0

 

VSWR

≤1.3

 

Rejection

≥80 @ 869~894MHz

≥80 @ 2300~2400MHz

≥80 @824~849MHz

≥80 @2300~2400MHz

≥80 @ 824~849MHz

≥80 @ 869~894MHz

Power(W))

20W

Surface Finish

 Black paint

Connectors

  SMA -Female

Configuration

As Below(公差±0.5mm)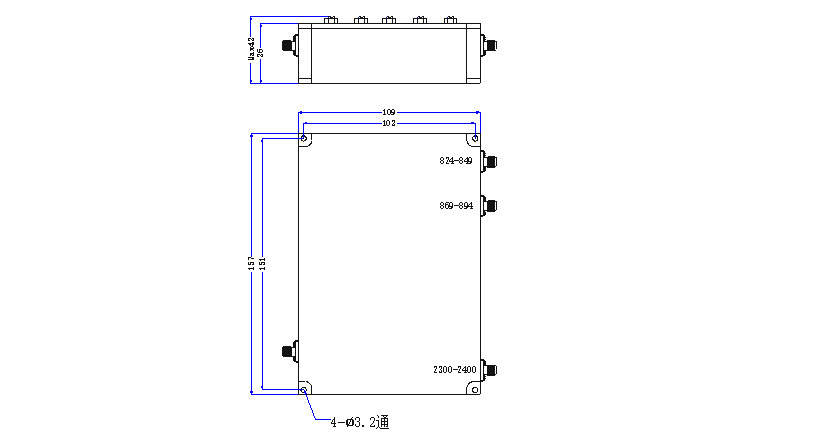 Selling Units:Single item
Single package size: 19X15.4X7 cm
Single gross weight:1 kg
Package Type:Export Carton Package
Lead Time:
| | | | |
| --- | --- | --- | --- |
| Quantity(Pieces) | 1 - 1 | 2 - 500 | >500 |
| Est. Time(days) | 15 | 40 | To be negotiated |
Product Brief Description
Keenlion, a renowned manufacturer specializing in passive electronic components, proudly presents its latest innovation - the 3 Way Passive Combiner. This cutting-edge device features low loss, high suppression capabilities, sample availability, and customizable options, making it an ideal solution for seamless signal integration in communication and antenna systems.
- Low Loss and High Suppression:
The 3 Way Passive Combiner from Keenlion ensures minimal signal loss during the integration process. By effectively suppressing unwanted noise and interference, this device delivers clear and uninterrupted signals, optimizing the overall communication performance- Sample Availability and Customization Options:
Understanding the importance of product evaluation and customization, Keenlion offers sample quantities of the 3 Way Passive Combiner, allowing customers to assess its efficiency in their specific applications. Additionally, the device can be tailored to meet unique project requirements, ensuring a personalized solution.
1. Expertise in Passive Components:
With a wealth of experience in producing passive electronic components, Keenlion stands as a trusted industry leader. Their extensive expertise enables the manufacturing of high-quality products that consistently meet the evolving demands of communication and antenna systems.
2. Superior Quality and Reliability:
Keenlion places a strong emphasis on delivering products of unmatched quality. Each 3 Way Passive Combiner undergoes stringent testing and quality control procedures, guaranteeing superior performance and reliability. The company's commitment to international standards ensures customer satisfaction and reliability.
3. Prompt Delivery and Excellent Customer Support:
Keenlion prioritizes timely delivery to meet customer requirements and project timelines. By employing efficient production processes and maintaining a robust supply chain, the company ensures orders are delivered promptly. Their dedicated customer support team is always ready to assist, providing prompt responses to queries and concerns.
1. Communication Systems:
The 3 Way Passive Combiner plays a vital role in communication systems by efficiently combining multiple signals from various sources. This integration process enables improved signal transmission, reduced interference, and enhanced overall communication reliability.
2. Antenna Systems:
In antenna systems, the 3 Way Passive Combiner optimizes signal integration, allowing for seamless connectivity across multiple antennas. It assists in minimizing signal loss and interference, maximizing the antenna system's performance.
3. Distributed Antenna Systems (DAS):
For DAS installations, the 3 Way Passive Combiner ensures efficient signal distribution and integration. By combining signals from different sources, it enhances coverage and facilitates consistent and reliable communication within the network.
4. Wireless Access Points:
Wireless access points benefit from the 3 Way Passive Combiner's ability to integrate signals from multiple antennas, resulting in improved coverage and stronger signal strength. The device ensures consistent and efficient wireless network connectivity.
5. Public Safety Communication:
In public safety communication systems, the 3 Way Passive Combiner assists in combining signals from various communication devices and antennas. By optimizing signal integration, it enhances the reliability and effectiveness of critical communication channels.
In conclusion, Keenlion's 3 Way Passive Combiner serves as an advanced solution for seamless signal integration in communication and antenna systems. With its low loss, high suppression capabilities, sample availability, customization options, and Keenlion's commitment to quality and customer support, this device fulfills industry requirements and provides reliable and efficient signal integration for various applications.
---
Next:
Keenlion Maximizing Power with Dual Splitters: Unleashing the Potential of 2-Way Power Splitter Distribution
---
Write your message here and send it to us