RF 2 3 4 way 700-2700MHz microstrip signal wilkinson power splitter divider with SMA-Female/N-Female
Product Detail
Product Tags
PN:KPD-M2-N
Product Name

2Way

Power Divider

Frequency Range

0.7-2.7 GHz

Insertion Loss

≤ 0.5dB

(

Does not include theoretical loss 3dB)

VSWR

IN:≤1.3: 1 

Isolation

≥22dB

Amplitude Balance

≤±0.2 dB

Phase Balance

≤±3°

Impedance

50 OHMS

Power Handling

20 Watt

Port Connectors

N-Female

Operating Temperature

﹣

40℃ to +80℃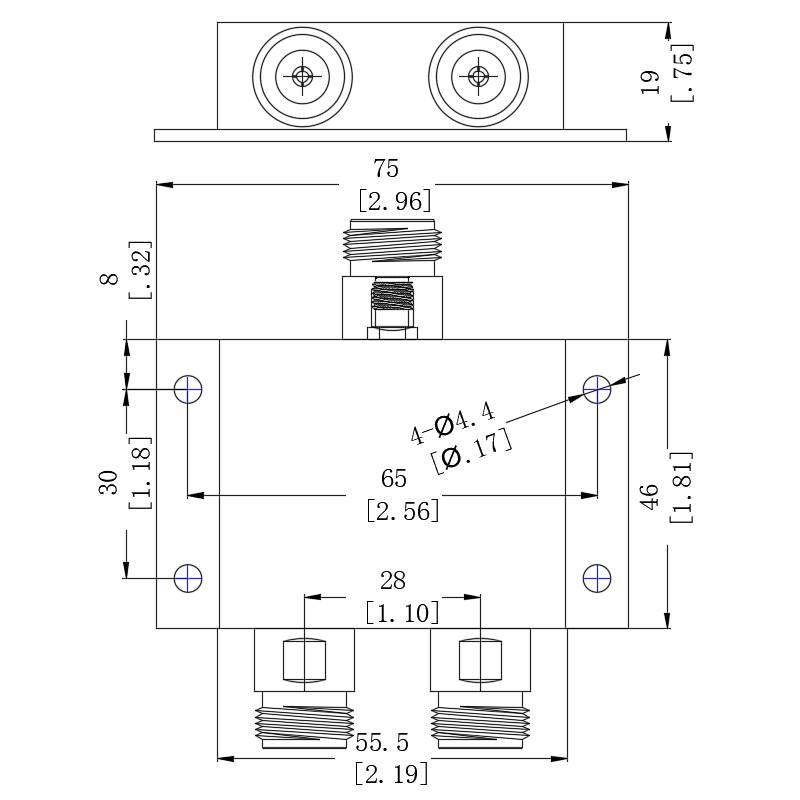 PN:KPD-M3-N
Product Name

3Way

Power Divider

Frequency Range

0.7-2.7 GHz

Insertion Loss

≤ 0.6dB

(

Does not include theoretical loss 4.8dB)

VSWR

IN:≤1.3: 1 

Isolation

≥20dB

Amplitude Balance

≤±0.35 dB

Impedance

50 OHMS

Power Handling

20 Watt

Port Connectors

N-Female

Operating Temperature

﹣

40℃ to +80℃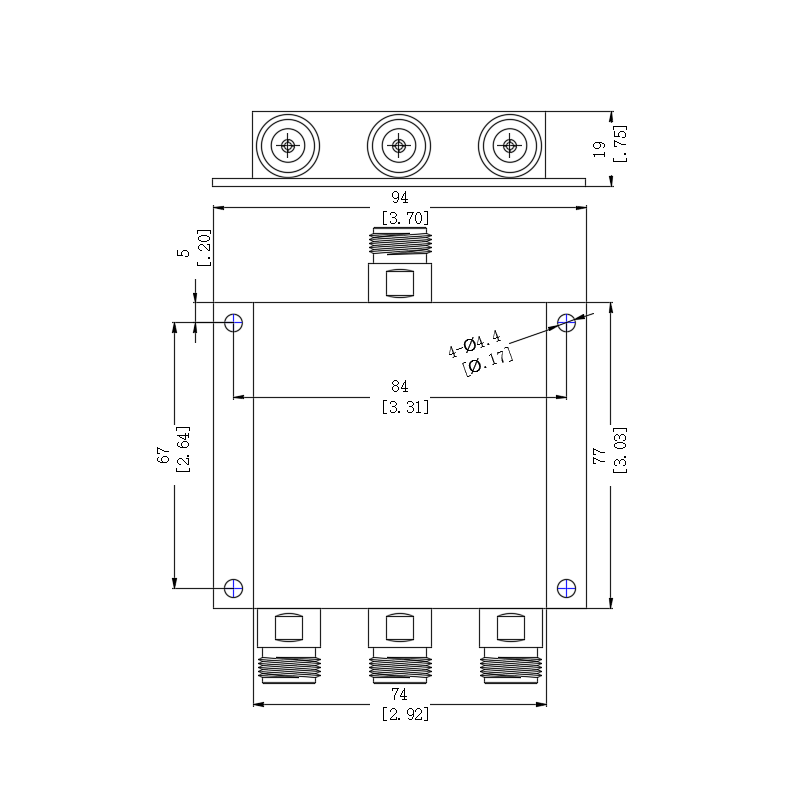 PN:KPD-M4-N
Product Name

4Way

Power Divider

Frequency Range

0.7-2.7 GHz

Insertion Loss

≤ 0.7dB

(

Does not include theoretical loss 6dB)

VSWR

IN:≤1.3: 1 

Isolation

≥20dB

Amplitude Balance

≤±0.4 dB

Phase Balance

≤±4°

Impedance

50 OHMS

Power Handling

20 Watt

Port Connectors

N-Female

Operating Temperature

﹣

40℃ to +80℃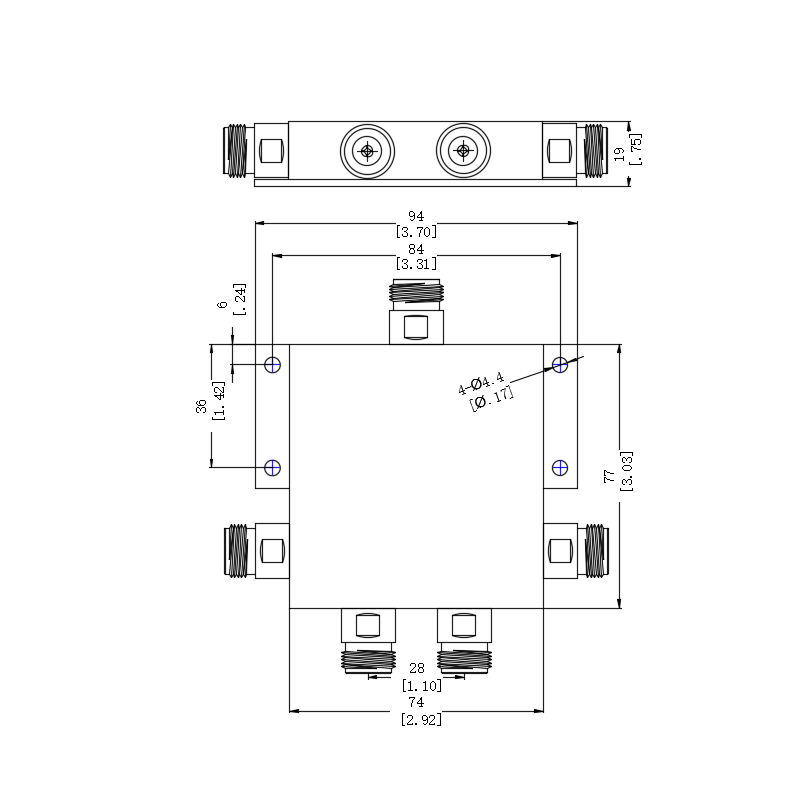 PN:KPD-M2-S
Product Name

2Way

Power Divider

Frequency Range

0.7-2.7 GHz

Insertion Loss

≤ 0.5dB

(

Does not include theoretical loss 3dB)

VSWR

IN:≤1.25: 1 

Isolation

≥22dB

Amplitude Balance

≤±0.2 dB

Phase Balance

≤±3°

Impedance

50 OHMS

Power Handling

20 Watt

Port Connectors

SMA-Female

Operating Temperature

﹣

40℃ to +80℃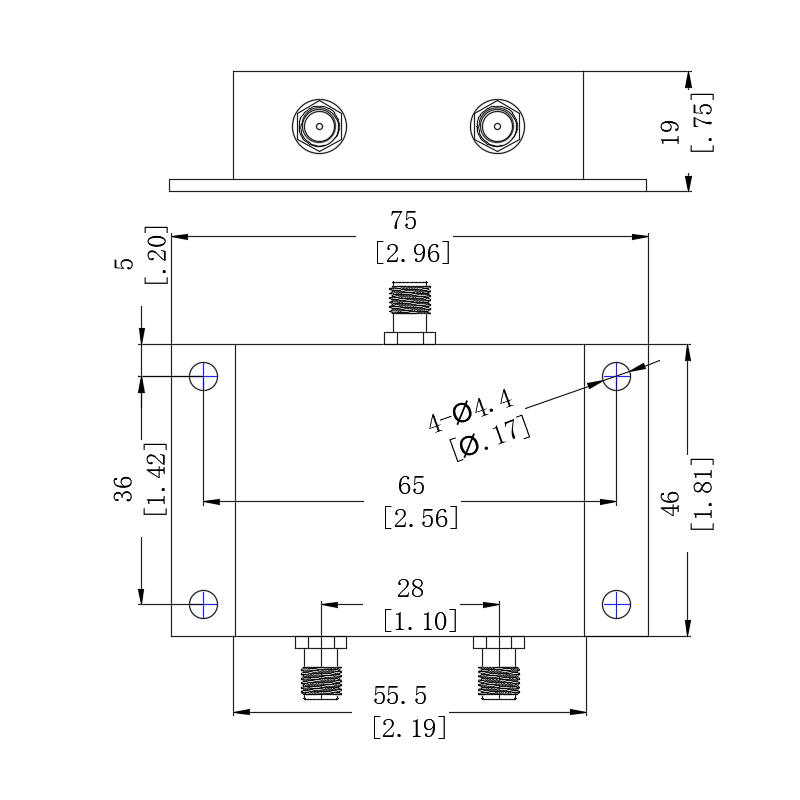 PN:KPD-M3-S
Product Name

3Way

Power Divider

Frequency Range

0.7-2.7 GHz

Insertion Loss

≤ 0.6dB

(

Does not include theoretical loss 4.8dB)

VSWR

IN:≤1.3: 1 

Isolation

≥20dB

Amplitude Balance

≤±0.4 dB

Impedance

50 OHMS

Power Handling

20 Watt

Port Connectors

SMA-Female

Operating Temperature

﹣

40℃ to +80℃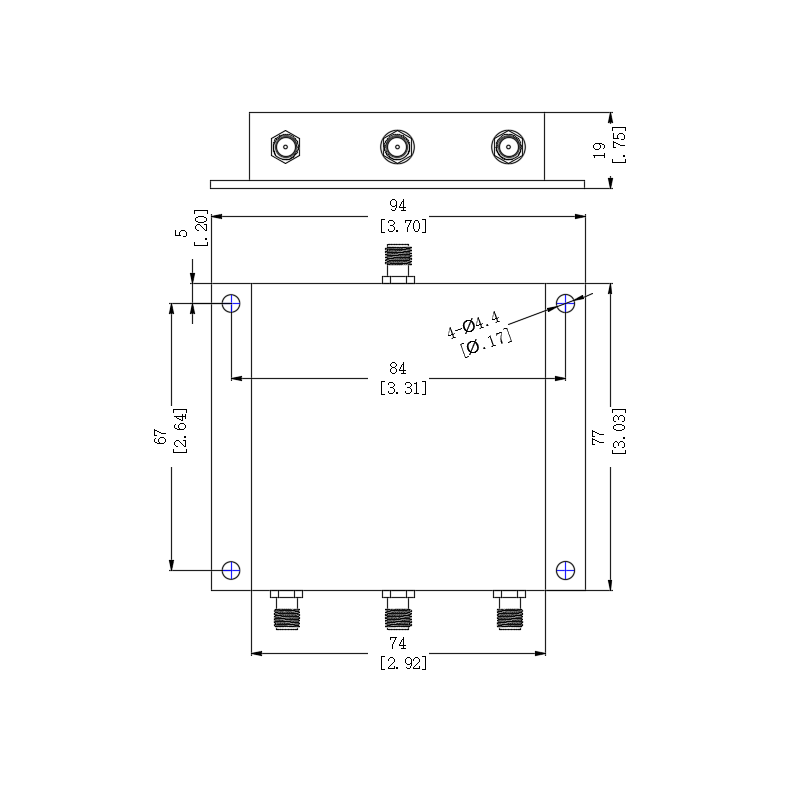 PN:KPD-M4-S
Product Name

4Way

Power Divider

Frequency Range

0.7-2.7 GHz

Insertion Loss

≤ 0.7dB

(

Does not include theoretical loss 6dB)

VSWR

IN:≤1.3: 1 

Isolation

≥20dB

Amplitude Balance

≤±0.4 dB

Phase Balance

≤±4°

Impedance

50 OHMS

Power Handling

20 Watt

Port Connectors

SMA-Female

Operating Temperature

﹣

40℃ to +80℃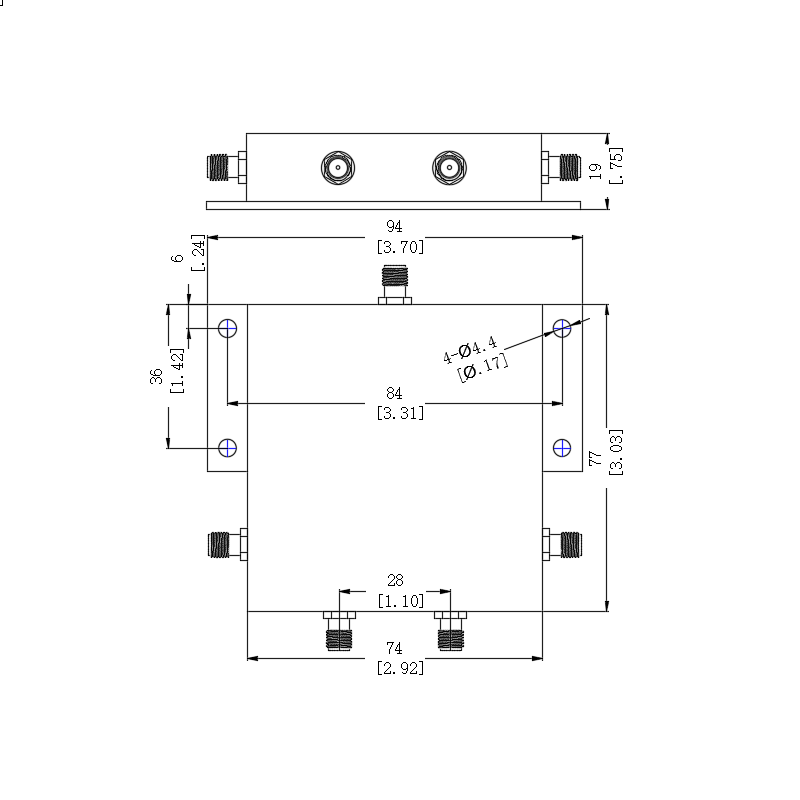 Selling Units:Single item
Single package size:9X6X3cm/10X9X2cm/10X9X3cm/9X6X3cm/11X9X3CM/11X9X3cm
Single gross weight:0.15KG/0.26kg/0.28KG/0.09KG/0.16KG
Package Type:Export Carton Package
Lead Time:
| | | | |
| --- | --- | --- | --- |
| Quantity(Pieces) | 1 - 1 | 2 - 500 | >500 |
| Est. Time(days) | 15 | 40 | To be negotiated |
Keenlion is a reputable factory specialized in manufacturing high-quality 700-2700MHz Power Divider Splitters. With a strong commitment to delivering exceptional product quality, customization options, and competitive factory prices, we have emerged as a renowned supplier for all your power divider needs.
Superior Product Quality:
At Keenlion, we take immense pride in the superior quality of our 700-2700MHz Power Divider Splitters. Our dedicated team of experts utilizes advanced manufacturing techniques and adheres to stringent quality control measures, ensuring that our products meet and exceed the highest industry standards. Our power divider splitters are lauded for their outstanding performance, including low insertion loss, high isolation, and remarkable power handling capabilities. When choosing Keenlion, you can trust our power divider splitters to consistently deliver exceptional results in signal division applications.
Customization Options:
We understand that every project and application entails distinct requirements. Therefore, we offer extensive customization options for our 700-2700MHz Power Divider Splitters. Our team of experienced engineers works closely with clients to comprehend their precise needs and provide tailored solutions. We offer customization in various specifications, including frequency range, power division ratio, and impedance, among others. This guarantees that our power divider splitters are precisely tailored to meet our clients' unique demands, enabling optimal performance and efficiency.
Competitive Factory Prices:
Keenlion is committed to offering competitive factory prices without compromising on product quality. By streamlining our production processes and optimizing material sourcing, we provide cost-effective solutions to our clients. Our competitive prices empower clients to acquire high-quality 700-2700MHz Power Divider Splitters at affordable rates, enhancing project efficiency and overall profitability.
Key Features of 700-2700MHz Power Divider Splitters:
Our 700-2700MHz Power Divider Splitters are essential passive components that effectively divide an input signal into multiple outputs. Constructed using premium-quality materials, these power divider splitters ensure exceptional electrical performance and reliability. They efficiently distribute signals over a wide frequency range, making them ideal for wireless communication, radar systems, and test and measurement equipment applications.
---
Previous:
RF 2 4 8 way 500-6000MHz microstrip signal wilkinson power splitter divider with SMA-Female
---
Write your message here and send it to us