2496-2690MHZ/3300-3600MHZ/4800-5000MHZ 3 Way RF Passive Combiner Triplexer
Product Detail
Product Tags
Specifications

2593

3450

4900

Frequency Range( MHz )

2496-2690

3300-3600

4800-5000

Insertion Loss(dB)

≤0.5

Return loss (dB)

≥18

Rejection(dB)

≥85 @ 3300-3600MHz
≥85 @ 4800-5000MHz

≥85 @ 2496-2690MHz
≥85 @ 4800-5000MHz

≥85 @ 2496-2690MHz
≥85 @ 3300-3600MHz

Power(W)

Peak ≥ 400W, average power ≥ 200W

Temperature

-20°~﹢60℃

 

 

Surface Finish

Black paint

Port Connectors

N - Female

Configuration

As Below(±0.5mm)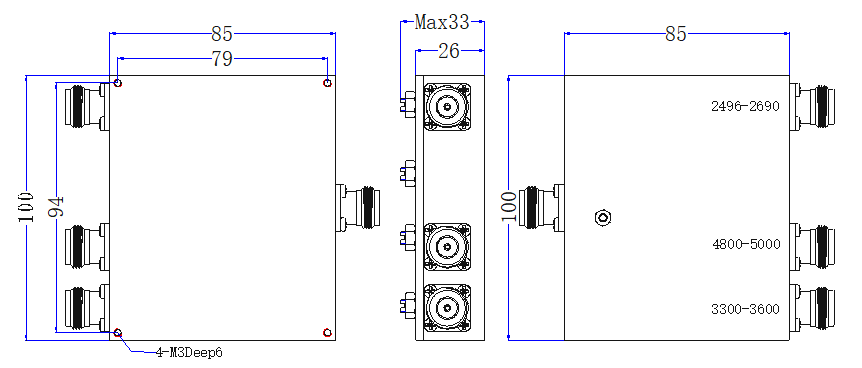 Selling Units:Single item
Single package size: 13X10X7 cm
Single gross weight:1 kg
Package Type:Export Carton Package
Lead Time:
| | | | |
| --- | --- | --- | --- |
| Quantity(Pieces) | 1 - 1 | 2 - 500 | >500 |
| Est. Time(days) | 15 | 40 | To be negotiated |
Keenlion, a well-known company specializing in signal integration technology, recently launched its revolutionary 3-way combiner, which will change the signal integration landscape. This innovative device has attracted a lot of attention for its unparalleled performance and reliability.
The launch of Keenlion's state-of-the-art 3-way combiner marks a major milestone in the field of signal integration. With its cutting-edge technology and advanced features, the device is poised to revolutionize industries that rely heavily on robust and seamless signal integration.
One of the key things that sets Keenlion combiners apart from the competition is their impeccable construction.  Keenlion's engineers poured their expertise and knowledge into developing a device that is not only durable but also highly efficient. This ensures that the combiner can withstand harsh environments while always delivering top-notch performance.
Also, the adaptability of the Keenlion three-way combiner is really remarkable. It has been engineered to integrate seamlessly with a wide variety of signal sources, making it ideal for a wide variety of applications. Whether it's telecom, broadcast or aerospace, the combiner is versatile enough to meet the unique requirements of each industry.
Another standout feature of Keenlion combiner is its comprehensive customization support. Keenlion recognizes that different industries have different signal integration requirements, and provides customers with tailor-made solutions. This ensures not only the highest efficiency, but also the best performance beyond the limitations of general-purpose signal integration devices.
The potential impact of Keenlion's breakthrough combiner on the future of signal integration cannot be overstated. Experts believe that it can not only enhance existing systems, but also develop new and improved technologies. The reliability and performance offered by this device will undoubtedly pave the way for better communication networks, efficient data transfer and overall technological advancement.
Industry leaders are excited about the possibilities offered by Keenlion's three-way combiner. They believe this game-changing device will address existing challenges with signal integration and help businesses improve operational efficiency and precision. Improved signal quality and reliability will minimize interference and facilitate seamless operations in critical sectors such as emergency services, defense and healthcare.
Furthermore, Keenlion's synthesizer is expected to have a positive impact on the environment. As industries strive towards sustainability, the combiner's efficiency and adaptability will significantly reduce energy consumption and carbon emissions associated with signal integration. This is in line with global efforts to combat climate change and make technological advancements greener
The launch of the Keenlion three-way combiner has aroused widespread concern in the industry. Businesses eagerly await the opportunity to incorporate this breakthrough technology into their operations. Potential benefits, including enhanced performance, reliability, and customization, make it an attractive prospect for industries across the globe.
The company's commitment to innovation and excellence continues to shine through as Keenlion reshapes the future of signal integration. With its state-of-the-art 3-way combiners, Keenlion is undoubtedly positioned as a leader in signal integration, meeting the changing needs of the industry and changing the way signals are integrated and transmitted
---
Next:
Keenlion 500-40000MHz 4 Port Power Divider: A Revolutionary Device for Efficient Signal Distribution
---
Write your message here and send it to us